The Duke University Wetland Center is marking its 30th anniversary this year by kicking off the largest expansion of research, teaching and outreach programs in its history.
Plans for the multi-year expansion include opening a Wetland Center branch at the Duke University Marine Laboratory in Beaufort, N.C., and developing new programs on wetland and coastal restoration, coastal resilience and carbon neutrality for students at the Marine Lab and on Duke's Durham campus, said Director Curtis J. Richardson.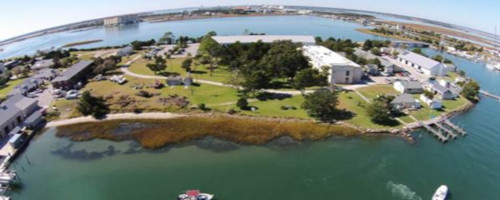 On the research front, the center is broadening the scope of work at its 10,000-acre "carbon farm" in eastern North Carolina to ramp up long-term field trials on the impacts of peat bog restoration on biodiversity, carbon storage and saltwater intrusion.
It's also planning bioengineering studies to explore potential medicinal and pharmaceutical uses for microbes found in these peat bogs and chemical compounds produced by native plants that grow there.
The center's research and teaching portfolio will further expand this summer when Brian Silliman, Rachel Carson Distinguished Professor of Marine Conservation Biology at the Nicholas School, joins it as associate director.
"Brian brings a new dimension through his expertise on food webs and the conservation and restoration of coastal and marine ecosystems, which complements our existing strengths on terrestrial and freshwater systems," Richardson said.
To build on these combined strengths, Silliman and Richardson have developed a new interdisciplinary initiative called Duke Restore that will be based at the Nicholas School and Wetland Center but will engage expertise from Duke Marine Lab, the River Center, Nicholas Policy Institute and across Duke's campus and beyond.
"Duke Restore is an inclusive, university-wide initiative focused on creatively building ecosytems to help humans and nature" Silliman said. "The idea is to form many Duke Restore teams with experts and students from diverse fields and sectors, and crosspollinate our areas of individual expertise to find new approaches to critical issues in coastal conservation and restoration, starting with issues we're facing right here in North Carolina," Silliman said.
For example, A "Living Shorelines" team of experts has already been formed and is working with the U.S. Marine Corps and the Pew Charitable Trusts to restore oyster reefs and eroding shorelines at the Marine Corps Air Station at Cherry Point, N.C.
"Increasingly, there's a mandate to rebuild coastal ecosystems to benefit people and nature," he said. "Duke Restore fits right into that and will help position us at the forefront of global efforts."
"Ultimately, we want the Wetland Center to become a generator of ideas and a nexus of collaboration," said Richardson. And if it becomes an engine for sustainable development across ecosystems, too, so much the better.